Source: Samsung

Samsung Galaxy Watch 6 Classic

The Samsung flagship

Part of Samsung's new Watch 6 series, the Watch 6 Classic is currently the best smartwatch for Android users, and runs the latest version of Wear OS. It brings back the physical rotating bezel and has a stainless-steel case with a sapphire glass top.

Pros

Traditional watch-like design
Snappy performance
Wide range of health and fitness features

Cons

No dual-frequency GPS or crash detection

Source: Apple

Apple Watch Ultra

The Apple flagship

The Watch Ultra is a rugged smartwatch that sits atop Apple's wearables lineup. It has a titanium case, sapphire glass top, dual-frequency GPS, and cellular connectivity.

Pros

Titanium case and 100-meter water resistance
Extra outdoors-y features
watchOS 9 is more polished

Cons

Expensive
Overkill for most people
The Galaxy Watch 6 Classic and the Watch Ultra are the flagship smartwatch models from Samsung and Apple, respectively. One is targeted at Android smartphone owners, whereas the other is meant for iPhone users.
While your smartwatch buying decision will depend a lot on your phone's operating system, you may be wondering how the best Android smartwatch right now stacks up against Apple's top-end wearable. Let's find out.
Price, availability, and specs
Although the Galaxy Watch 6 Classic and the Apple Watch Ultra are both high-end smartwatches, there's a significant price difference between the two.
The Galaxy Watch 6 Classic starts at $400 for the non-cellular version of the 43mm model and goes up to a max of $480 for the 47mm model with cellular connectivity. By contrast, the Apple Watch Ultra costs $799 for its sole variant with cellular connectivity and a 49mm case, so you're paying nearly double for the Apple option.
Both smartwatches are available from all major retailers, including their respective manufacturer websites and physical stores.
| | Samsung Galaxy Watch 6 Classic | Apple Watch Ultra |
| --- | --- | --- |
| Battery Life | 30 hours with Always On Display, 40 hours without | 36 hours standard; 18 hours LTE |
| Onboard GPS | Yes | L1 and L5 GPS |
| Sizes | 43mm and 47mm | 49mm |
| Colors | Black and Silver | Titanium |
| Display | 43mm: 1.3-inch 432 x 432 Super AMOLED, Always On Display; 47mm 1.5-inch 480 x 480 Super AMOLED Always On Display | Always-On Retina OLED display |
| CPU | Exynos W930 Dual-Core 1.4GHz | S8 SiP with 64-bit dual-core processor |
| Storage | 16GB | 32GB |
| Battery | 43mm: 300mAh 47mm: 425mAh | 542 mAh |
| Connectivity | LTE6, Bluetooth 5.3, Wi-Fi 2.4+5GHz, NFC | LTE and UMTS |
| Health sensors | Samsung BioActive Sensor, Temperature Sensor, Accelerometer, Barometer, Gyro Sensor, Geomagnetic Sensor, Light Sensor, 3D Hall Sensor | Blood oxygen, electrical heart (ECG), optical heart, skin temperature, |
| Price | 43mm: $400 47mm: $430 | $799 starting |
| Strap | Hybrid Eco-Leather Band | Alpine, Trail, or Ocean Loop |
| Weight | 43mm: 52g 47mm: 59g | 61.3g |
Design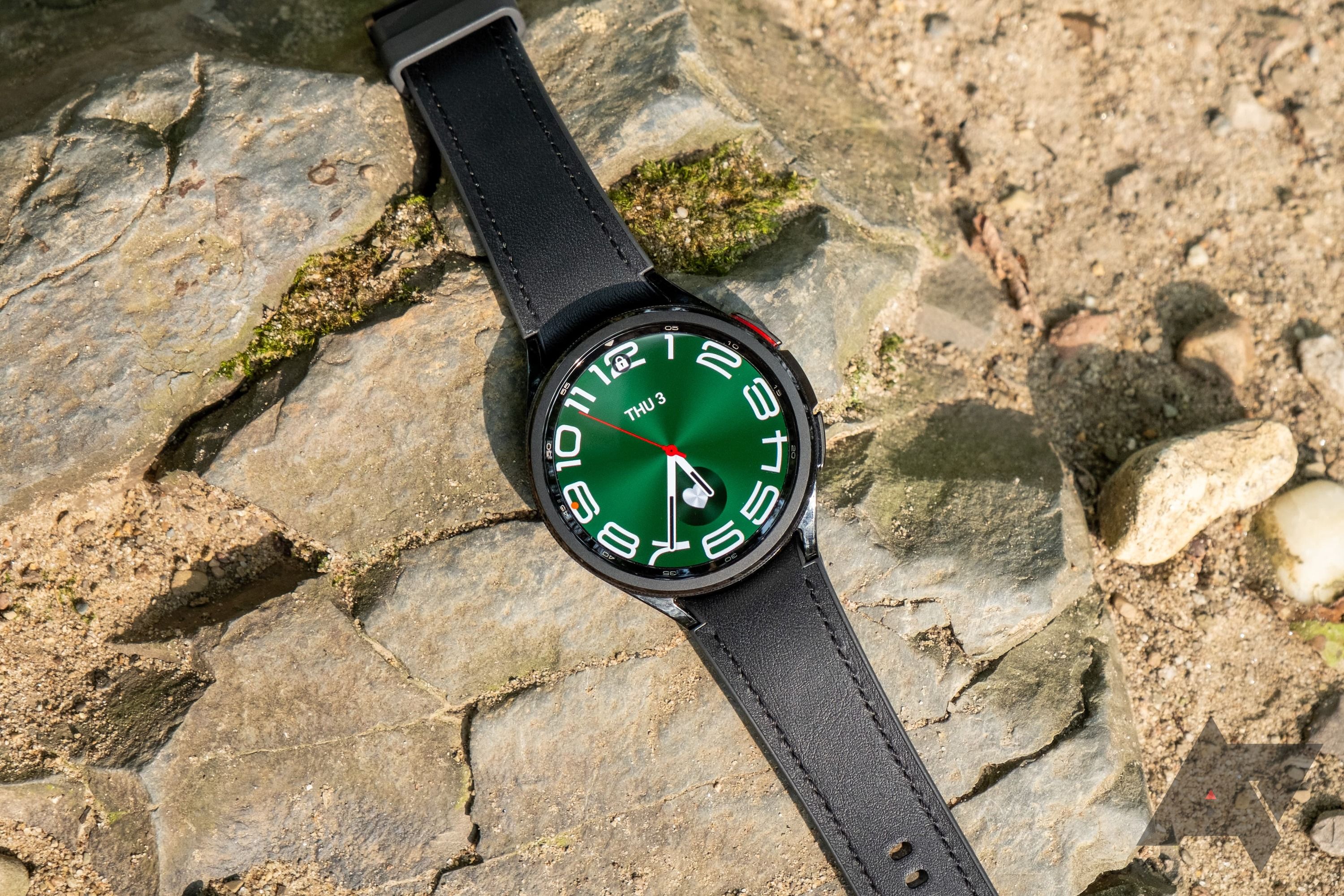 The Apple Watch Ultra and Samsung Galaxy 6 Classic look quite different to one another. While Samsung has opted to follow the classic watch design with a circular case, Apple has continued with its squircle design, a hallmark of Apple smartwatches.
Samsung also gives you a choice of two sizes – 43mm or 47mm – while Apple limits you to a 49mm model. That means you're stuck with an especially large watch if you want the Ultra's unique features, and unsurprisingly it's a little heavier than the Samsung model too.
As Apple is targeting outdoor enthusiasts who want something more durable than your regular smartwatch, the Watch Ultra uses a titanium case and sapphire glass. And while Samsung is no stranger to titanium, the company has stuck with a stainless steel case for the Watch 6 Classic, probably to keep it priced reasonably, but that does mean it's a little less durable.
A major highlight of the Samsung Galaxy Watch 6 Classic is the physical rotating bezel that aids in the watch navigation. While the Watch Ultra doesn't have a rotating bezel, it carries a digital crown that helps you scroll through apps or reach the home screen quickly.
Turning to the strap, the Apple Watch Ultra is available in three band options by default: Alpine Loop, Trail Loop, and Ocean Band. You can grab the Watch 6 Classic in five band options: Hybrid Leather T, Sport, Extreme Sport, Hybrid Leather D, and Fabric. Both smartwatches allow swapping the band with other third-party or official options.
Display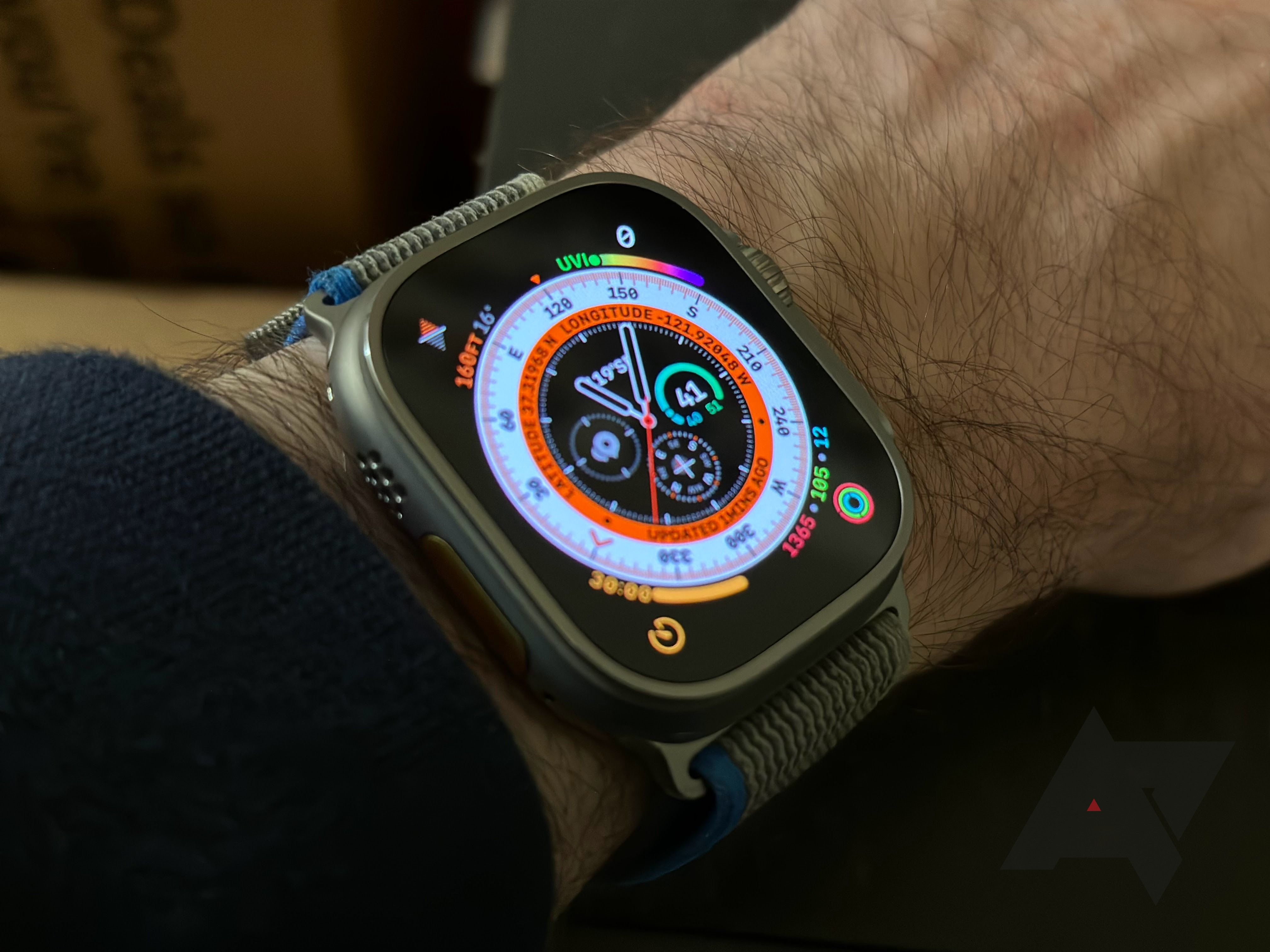 While both the Samsung and Apple smartwatches use OLED panels with a peak brightness of 2,000 nits, the Watch Ultra has a larger 1.9-inch screen compared to the 1.5-inch on the Watch 6 Classic 47mm version and 1.3-inch on the 43mm version. Otherwise, the two displays are largely similar (shape aside) and deliver punchy and vibrant colors with inky blacks.
Performance and battery
Apple includes its S8 dual-core chip in the Watch Ultra, which is pretty capable and delivers snappy performance and little lag or slowdown. Similarly, the new Exynos W93 processor in the Watch 6 Classic is no slacker and provides a fast and fluid experience with no jittering or lag. Both are undoubtedly the snappiest wearables you can find on the market.
However, the battery is one area where the Watch Ultra has a slight advantage over the Galaxy Watch 6 Classic. The larger overall size allows the Watch Ultra to pack in a bigger battery, which results in longer battery life. Apple claims the Watch Ultra can last up to 36 hours with always on display and typical usage. In comparison, Samsung says the Watch 6 Classic can go about 30 hours between charges. However, both these estimates are without LTE usage, which can reduce the battery life by almost half.
Both smartwatches also have fast charging support and come with puck-type wireless chargers with an attached USB-C cable.
Software, health tracking, and more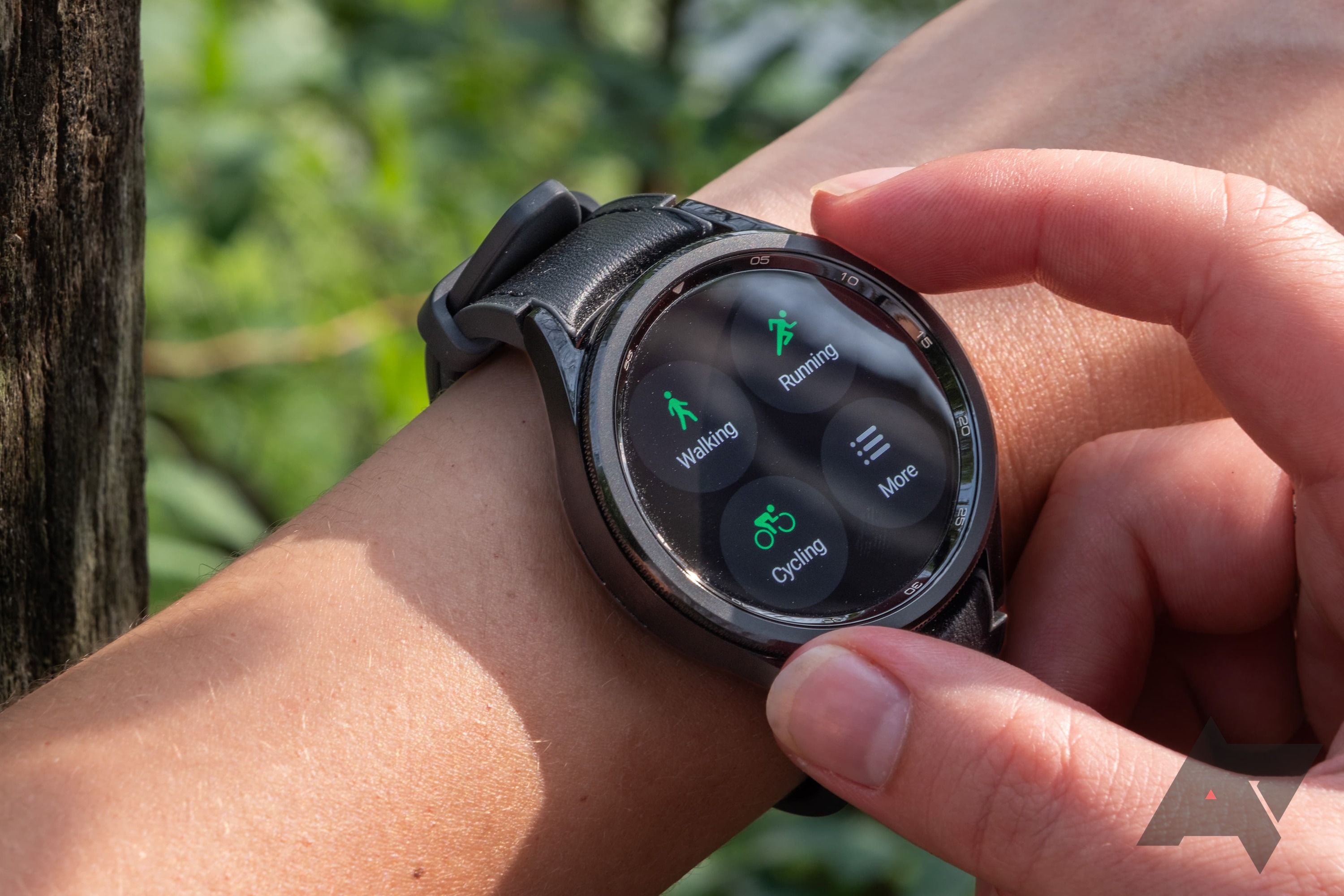 Software is another aspect where the Watch Ultra shines, thanks to its much-polished watchOS 9 operating system and a larger app ecosystem. Google and Samsung have made some strides with Wear OS 4, but they still have a bit to catch up. That said, the vast majority of features that most people want from smartwatches are present on both.
For example, the Galaxy Watch 6 Classic and the Watch Ultra offer heart-rate monitoring, ECG, fall detection, blood oxygen monitoring, temperature-based cycle tracking, and sleep tracking. Activity monitoring is also available on both watches, and both can detect a wide range of workouts and other activities.
But the Watch Ultra packs a few extras in the form of dive computer functionality, a siren, dual-frequency GPS, and 100-meter water resistance, which are targeted at people who are more likely to spend time outdoors doing all sorts of adventure activities. As the Watch 6 Classis is essentially a mainstream smartwatch, it lacks all these features and has a single-band GPS and 50-meter water resistance, like most other smartwatches.
Another feature included on the Watch Ultra but missing from the Samsung watch is crash detection. The Apple Watch Ultra can detect severe car crashes and automatically contact emergency services for you.
The right smartwatch for you
As mentioned earlier, your smartwatch purchase will largely depend on your phone. If you have an iPhone, you should go for the Watch Ultra, as the Samsung Galaxy Watch 6 Classic won't work with your phone. Similarly, the Watch 6 Classic is suitable for Android smartphone owners as there's no easy way to use the Apple smartwatch with Android.
The Galaxy Watch 6 Classic is a better smartwatch for most people, packing all the features that most of us need and want while hitting a price that – while expensive – isn't outrageous. Of course, it doesn't really sit in the same category as the Apple Watch Ultra; a more apples-to-apples comparison would be with the Apple Watch Series 8.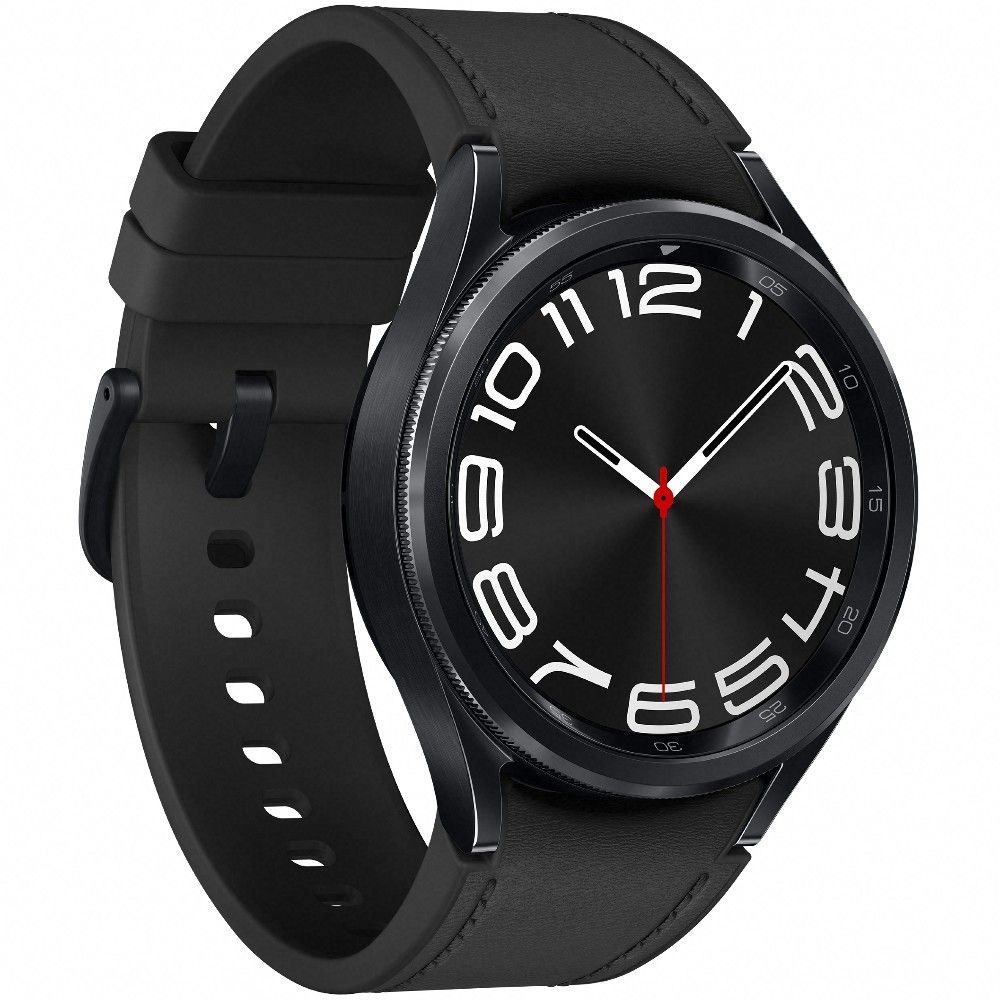 Source: Samsung
Samsung Galaxy Watch 6 Classic
The Android pick
$381 $400 Save $19
The Galaxy Watch 6 is an excellent smartwatch for Android users who want a traditional design, impressive performance, and Wear OS.
Still, the Apple Watch Ultra has several features you won't find on the Galaxy Watch 6 Classic. But most people will never use or need those features. It's a niche smartwatch that regular users can enjoy but don't necessarily need.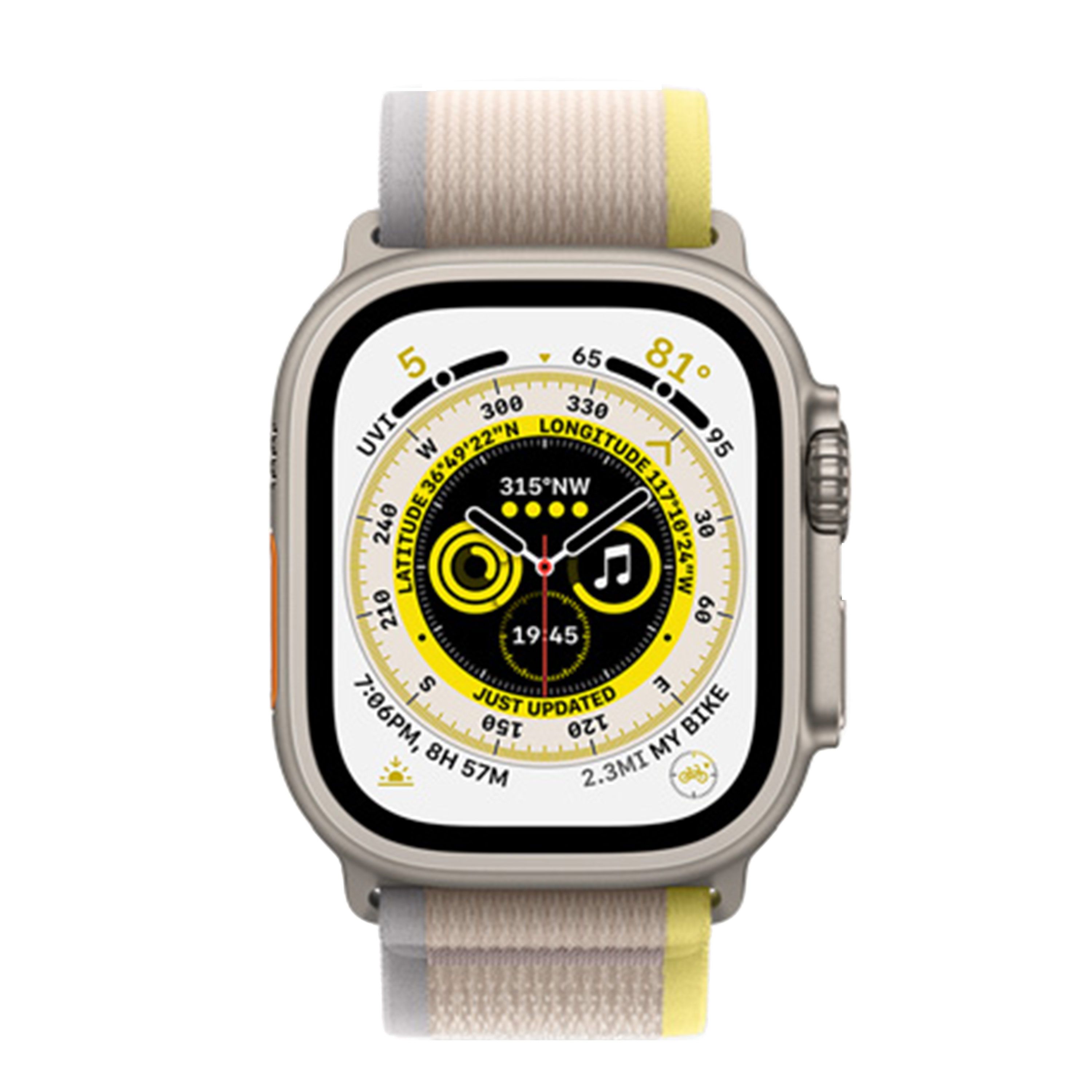 Source: Apple
Apple Watch Ultra
A rugged option for iPhone
The Apple Watch Ultra shines as the smartwatch for iPhone owners who are into extreme sports, outdoor adventures, or professional athletics.