Samsung's Galaxy Z Fold 5 represents the best of what Samsung has to offer in the foldable space right now. It's among the best foldable phones out there in 2023. It is a spectacular device even with the growing competition. Samsung has also made some notable improvements to the last year's model, improving the overall experience of using the device. There's no doubt the Galaxy Z Fold 5 is a fantastic phone for advanced users, but there are a few features and settings I recommend exploring to make the most of this versatile device. Here are five settings I wish someone told me before I started using the Galaxy Z Fold 5.
1
Force portrait mode for certain apps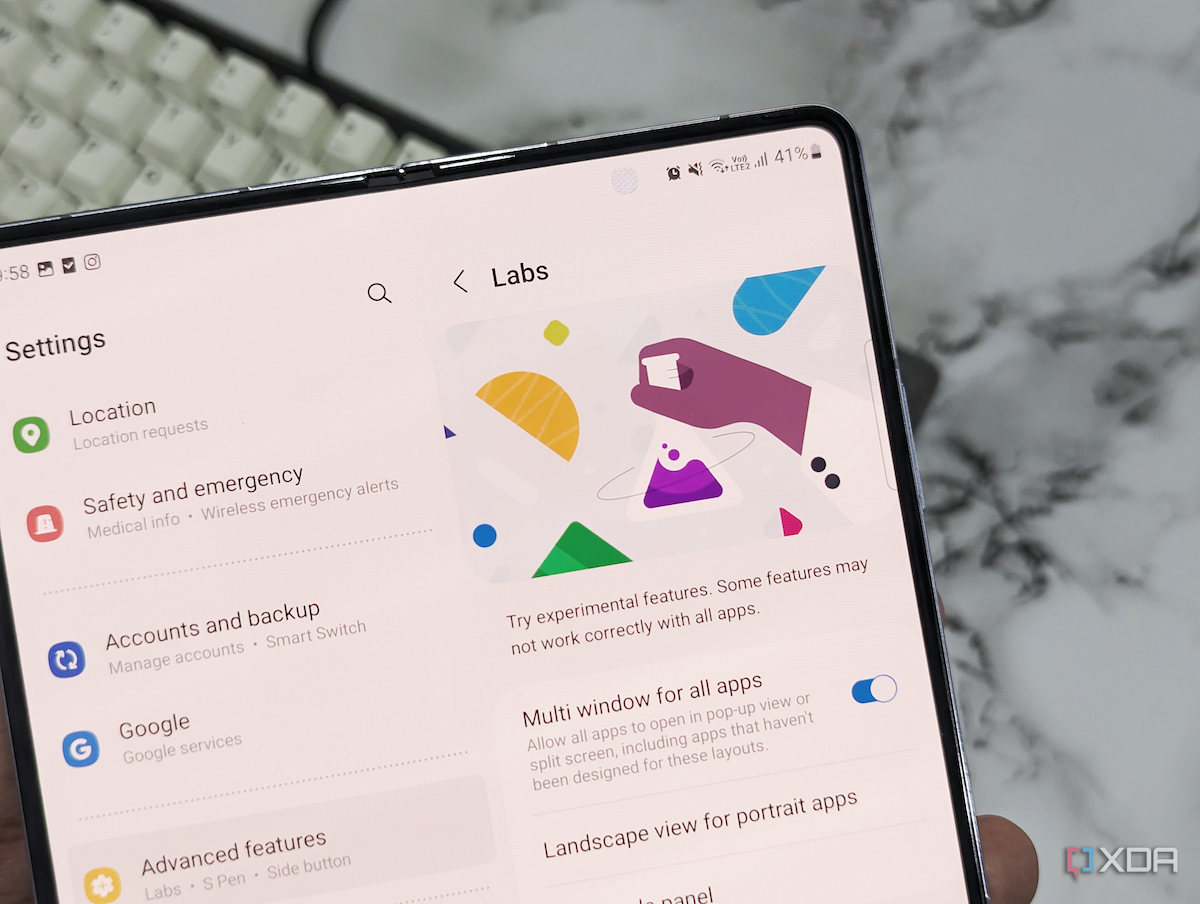 You may notice that some applications on the Galaxy Z Fold 5 will automatically open in landscape mode, forcing you to rotate the phone. It's not necessarily a deal-breaker, but it may get to you at times, especially if you're rushing to get something done urgently. Thankfully, there is a way to force those applications to open in portrait mode while still occupying the entire screen. Here's how to do it:
Open
Settings
and select
Advanced features
.
Tap on
Labs
and select
Landscape view for portrait apps
option.
Tap the app of choice, enable the toggle, and select the
Full screen
option.
Doing this will force that particular application to open in portrait mode while still occupying the full screen. Many app developers have already updated their apps to behave properly on foldable phones, so this isn't something you'll have to do for a lot of apps. But there are a few that still go awry on foldable phones, and this is an easy way to force them to play nice. Alternatively, you can also force the portrait orientation by changing their aspect ratio, but I don't recommend this as it adds black bars on both sides regardless of whether you pick 16:9 or 4:3.
2
Create app groups
One of the advantages of buying a book-style foldable phone is that you get access to a massive display, which is perfect for multitasking. Seriously, using multi-window applications is a huge part of the Galaxy Z Fold 5 experience, and I highly recommend creating app groups to make the most of it. App groups, in case you don't know, is a One UI feature that allows you to pair two or more apps that you frequently use together. It essentially creates a group of these apps and saves it as an app icon to let you open them together with just a single tap. Here's how to do it:
Open the apps you want to use in the multi-window mode.
Tap the
three-dot
icon on the screen separator.
Select the
Star
icon, and then choose whether you want to place the group icon on the taskbar, homepage, or the Apps edge panel.
I like to add them to my Apps edge panel to keep the taskbar clean and reserve it for other apps. This is easily one of the best things you can do to multi-task on the Galaxy Z Fold 5. I use it all the time on this phone, and it's going to be hard for me to let go of it.
3
Use Grid view for Recent apps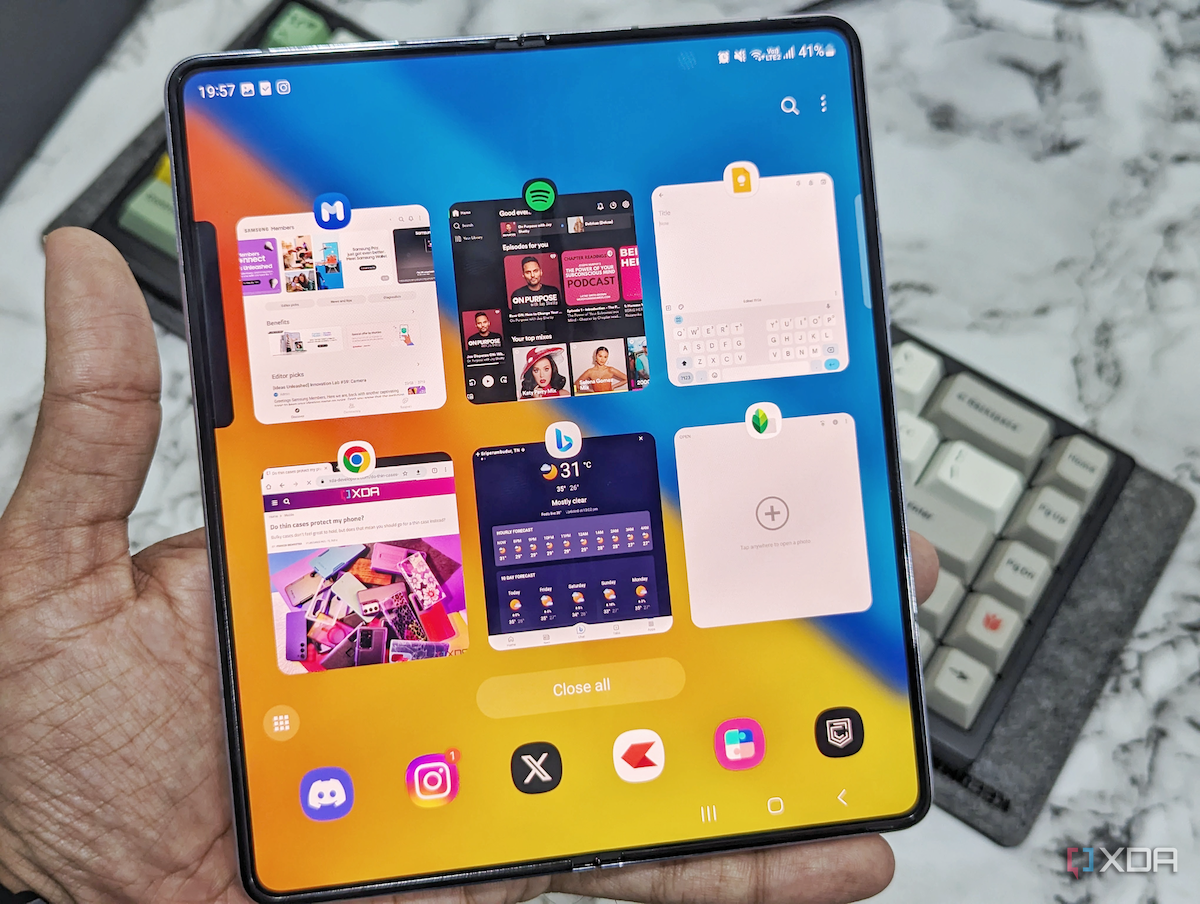 What's the point of having a bigger display if you can't use it to view more content at any given point? Well, a lot of apps and screens in One UI take advantage of the bigger display, except the Recent apps menu. It uses the traditional Recent apps view, making you scroll all the way to find your desired app. There's no way to change this view out of the box in One UI, but you can use Samsung's Good Lock app and download a module to change it to Grid view. Here's how to do it:
Download
Good Lock
from the
Galaxy Store
.
Open the app and look for a module called
Home Up
.
Download the module and open it.
Select
Task Changer
option and enable the toggle.
Choose
Grid
from the Layout Type menu.
The Gird view allows you to see as many as six app previews on the Recent apps screen, which is much better than the original view. The Grid view also works on the outer screen, so you get to see more recent apps there as well.
4
Change the navigation button alignment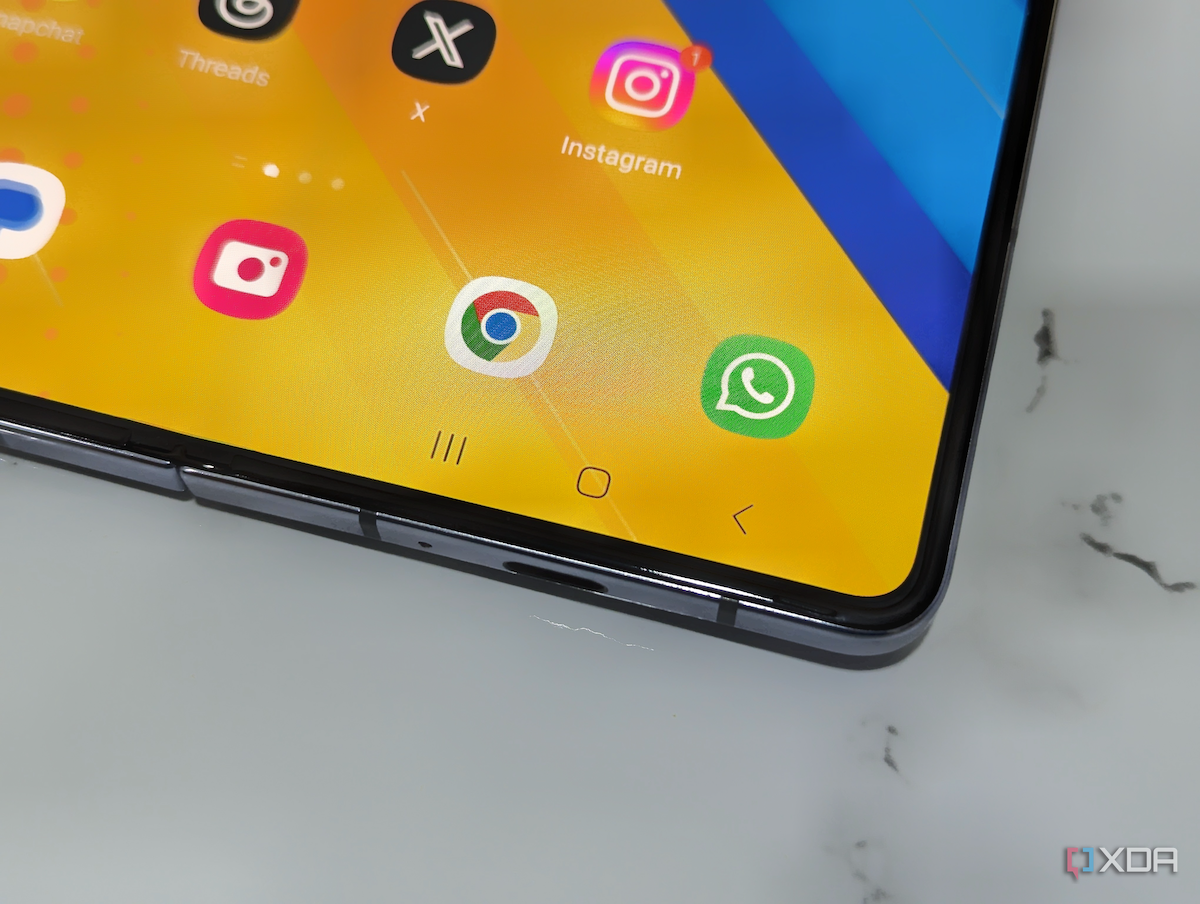 If you're the type of person who prefers using navigation buttons over gesture navigation on Android, then this one is for you. Instead of placing the navigation buttons at the center of the screen, the Galaxy Z Fold 5 aligns them to the right side by default. It's perfect for right-handed users like me, but you can change its position if you prefer to have it on the left side. I highly recommend changing this if you're a left-handed user because you'll definitely find it difficult to reach them on the right side due to the bigger size of the Galaxy Z Fold 5's display. Here's how to change the orientation of the navigation buttons:
Open
Settings
and tap
Display
.
Select
Navigation bar
and change the button position from
Right
to
Left
.
I've been using the Navigation buttons on the Galaxy Z Fold 5 over gestures lately. It's particularly easy to use the button if/when I am using the phone unfolded in one hand. Your mileage may vary, so feel free to explore and choose what works best for you. Those who prefer using the buttons over gestures must consider aligning the buttons with their dominant hands.
5
Using rear cameras to take selfies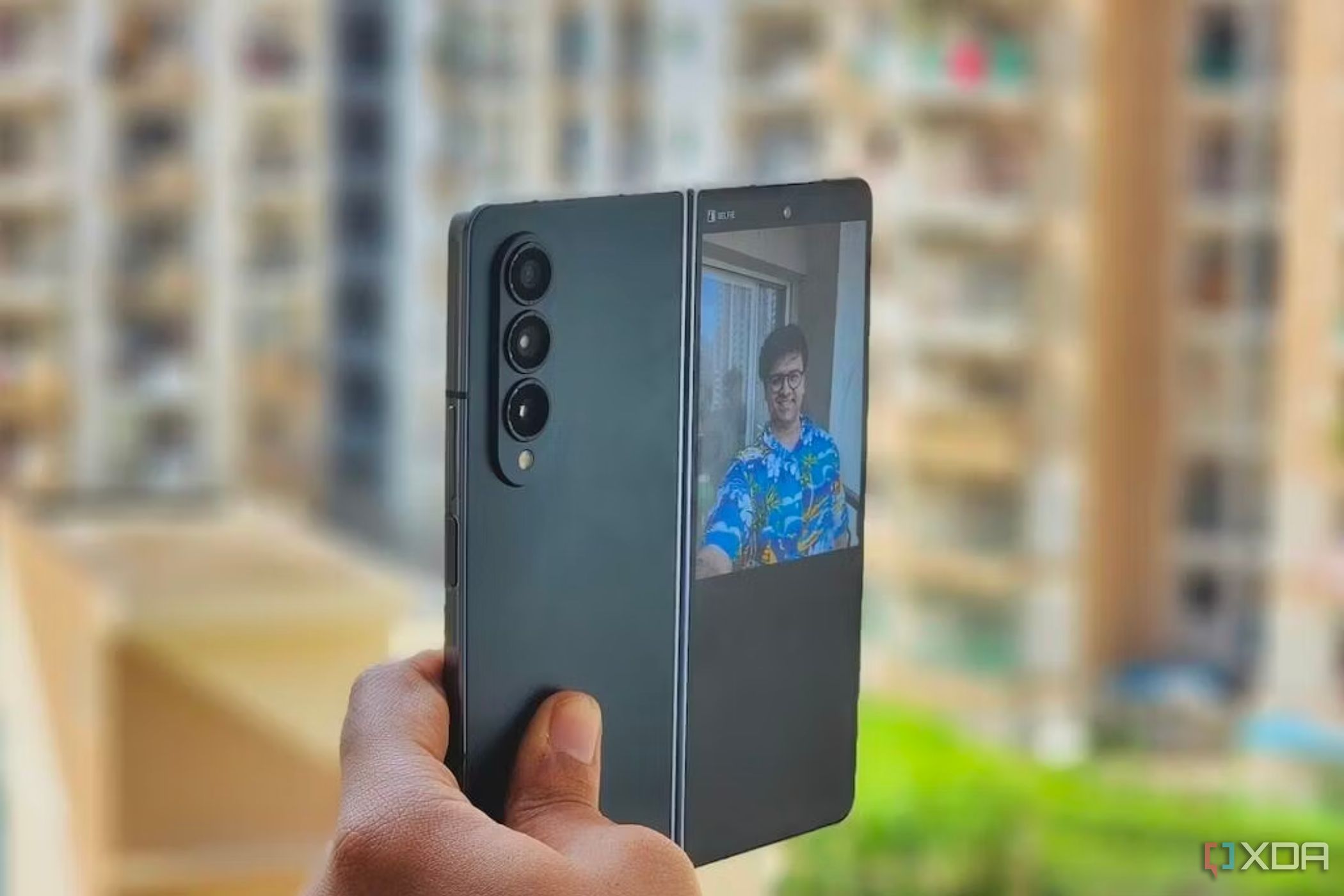 This is something I originally highlighted in my Galaxy Z Fold 4 camera walkthrough last year, but I believe it deserves another shoutout. The Galaxy Z Fold 5 comes with two dedicated selfie cameras — a 10MP sensor on the outer screen and a 4MP under-display camera on the inner foldable display. There's nothing to write home about these cameras, especially the under-display sensor, but you can use the Galaxy Z Fold 5's triple-camera setup at the back for selfies. That's right, you can use the phone's 50MP primary sensor for selfies, which is better than both dedicated selfie sensors. The highlight here, however, is the fact that you can use the cover display as the viewfinder for those selfies, which is great. Here's how to use it:
Open the
camera app
when the phone is unfolded.
Select the
rightmost
icon in the bar on top to enable cover screen preview.
Now you can make the most of your Galaxy Z Fold 5
That brings us to the end of this list, in which I've highlighted some settings and features to explore while getting started with your Galaxy Z Fold 5. Samsung has packed a ton of great features in this phone, and I've barely scratched the surface with these tips. I highly recommend exploring each and every setting to ensure you're not missing out on anything crucial. You'll find some of them to be more important than others, but it's important to explore them to ensure you're making the most of your expensive investment.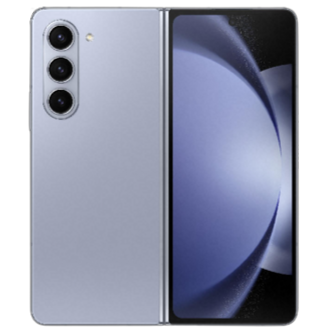 Samsung Galaxy Z Fold 5
Samsung's latest Galaxy Z Fold 5 is a further refinement of the Z Fold lineup. The smartphone looks similar to past Z Fold iterations, featuring a 7.6-inch main screen and a tall cover screen. On the inside, it's powered by a Qualcomm Snapdragon 8 Gen 2 chip and a 4,400mAh battery. 
You can score up to $1,000 off with trade-ins at Samsung.com.